Embody De-Light Mandala Process
"I wish I could show you when you are lonely or in darkness, the shining light of your own being".
–Hafiz
These workshops will invite you to experience and express the Light inherent in all Life. The beauty of your own Heart will be reflected back to you in the group and on paper.

Mandala means sacred circle in Sanskrit and is a vehicle for Self-remembrance and healing across cultures. Even if you have never drawn before, you will discover a wealth of images within and the means to give them form with simple, yet powerful techniques.

These sacred circles offer an opportunity to rest in the Heart and celebrate the presence of our communal resonance.

Movement, Ritual, Singing, Sufi & other Sound Practices along with Writing will be the vehicles for embodying our personal and collective exploration of de-Light.

When we rest in our Essence, spontaneous creative expression naturally arises effortlessly.
Prior Art making not Necessary ~ Only your Open Heart!

*Experience the Mandala Process as a doorway for awakening to spontaneous creativity; a key to living joyfully each moment.

*Return to your center and discover mandalas as tools for awakening into this present moment; step by step, one pencil stroke at a time, we directly touch here-and- now.

*Awaken the psycho-physical potency of chakras (energy centers in the body)

*Open to your innate creative potential; enliven your senses and embody your natural state of delight.

*Release self-limiting patterns and beliefs.

* Access new levels of intuitive guidance.

These workshops invite you to experience & express the Light inherent in all life. Fulfillment guaranteed!

INTIMATE GROUP OF 12
-$88 + $20 materials which you will keep
--Bring a friend for $10 off
---$77 for returning students
----TEEN SUNDAYS or WEEKDays $44-66
Irresistible Offers Welcome!
Registration: Advanced Registration is Required by December 25.

Please pre-register with a deposit of $20 thru PayPal. or mail a check ASAP.
Paypal: www.Paypal.com payable to julia@mandalaweaver.com

Checks can be mailed to:
Julia Weaver, MFT
PO Box 786
Forest Knolls, CA 94933

If you are interested in Webinar/Teleseminars ( late January) Please indicate your preference for morning, daytime or evening!

CEUs pending for LMFT and LCSW's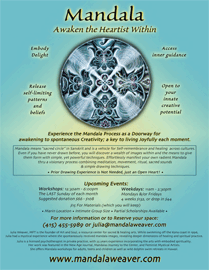 "I am always delighted in the space you create. I felt open and safe to move through whatever was there. The process is a wonderful meditation and now I am psyched that i can use it anytime . Thanks for a great day!"

Dr. Julie Trestman, DC
"I love that we covered so much territory in a one day! Each exercise cooked another voice and each vision lifted one more veil."

--S. Wilson
"Wonderful day great space, great tools, Julia has a special gift to cover so much unknown ground in one day. She is very present without being overwhelming."

--Veronique