.
Mandalas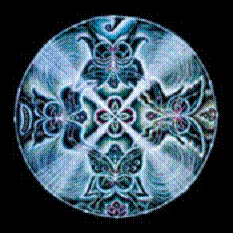 c. JW 2001 pencil, black paper
Art as a Celebration of the Heart!
Mohawk Valley Artists' Guild
Mandala means sacred circle in Sanskrit. Mandalas are visionary tools for meditation in many cultures including Hindu, Buddhist, and Navajo. Psychologically, circles provide a supportive space for transformation and individuation. They represent healing and wholeness.
Effortlessly manifest your own radiant mandala thru a visionary process combining meditation, movement, ritual, sacred sound & simple drawing techniques. (No prior art experience is necessary!)
Tuesday Aug. 8, Wednesday Aug. 9,
Experiential Introduction and Slide Show

Workshop in Portola (directions

once

registered)


Including

many

students' mandalas
Members -$50; Guests -$70.
Register by July 25
At Mohawk Resource Center, corner of Highways 70 & 89 Late registration, add $20
Includes $15 of art materials.
Open
to your innate creative potential; enliven your senses and embody your natural state of delight.
Release self-limiting patterns and beliefs. Access new levels of intuitive guidance.
In the intimacy of a small group, you will receive and allow your own unique luminous vision to manifest on black paper with white and colored pencils. All spiritual traditions honored. Enjoy heart-centered play and inner peace!
Julia Weaver, MFT, BFA, has 20 years experience incorporating the arts as a healing modality, and is an
exhibiting and widely collected visionary artist. Since 1996, she has offered The Artist's Way & Celebration
of the Heart-Mandala workshops for adults and children in her studio in Northern California and across the
US, as well as dolphin swim retreats in Hawaii. Her adult workshops were featured in New Age Journals Body
and Soul (spring 2001). She also uses the mandala process as a creative consultant with non-profit
organizations. She is a licensed psychotherapist and is available for psychotherapy or consultation sessions by
phone. Her mandalas have been published as limited edition prints and cards. www.MandalaWeaver.com
*Highly recommended reading, Mandala: Luminous Symbols for Healing, Judith Cornell, Ph.D.
For more information contact Susan Wilson @ (530) 832-0494 or Julia
@

(415) 455-5989

REGISTRATION:


NAME ____________________________ PHONE _____________________

EMAIL_______________________________________________________________________________

Member Y N (circle). Make check payable to MVAG for *$50 for members or $70 for non-member.

Amount enclosed $ ________Send to Box 21, Graeagle, CA 96103 by July 25. Late registration, add $20.